Lotus Bodywork Recovery Center
is centrally located in Alamo, CA inside W SALON SUITES at the Alamo Plaza.
In addition to customized massage therapy sessions, Carolyn Witt, CMT/LMT (CA-75076/NV-3957) specializes in surgical recovery, manual lymphatic drainage therapy (MLD), and oncology bodywork services.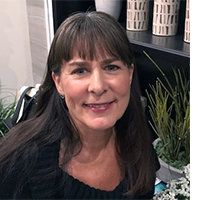 Carolyn A. Witt, CMT, LMT, CMLDT, CAP
: Carolyn A. Witt, CMT is passionate in helping her clients discover the healing power of bodywork and natural medicine. After years of being in the industry and working with patients at The Gene Upshaw Tahoe Forest Cancer Center, Carolyn noticed there was a lack of practitioners helping individuals in the recovery of surgical procedures and the ongoing challenges of chronic conditions. As a specialist in Manual Lymphatic Drainage (MLD) and Ayurvedic Medicine, Carolyn understands the importance in supporting the body's healing mechanisms. By combining these modalities, Carolyn has developed bodywork and complementary support to get you back to your routine with grace.
Education: Certified Ayurvedic Practitioner, Kerala Academy, formerly Ayurvedic Academy of Seattle, Massage Therapist, Milan Institute of Sparks, NV (CMT CA #132442, LMT NV #3957), and NCBTMB #568593. Certified Manual Lymphatic Drainage Therapist, Klose Training in Vodder technique*.